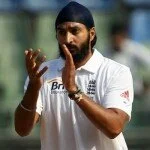 The Indian Cricket team fell flat in front of England's spin bowling attack. The two front line spinners from England bowled out India for just 142 runs.
India lost the 2nd Test match played against England at the Wankhede Stadium, Mumbai by 10 wickets and levels the four test match series 1-1 here on Monday.
Earlier, India started batting from their last night score of 117 runs for seen wickets and Harbhajan Singh was the first to go when he mis-reads the bowl of Swann and superbly caught by Trott in the slip.
Once again, opener Virender Sehwag, Virat Kohli, Yuvraj Singh and Sachin Tendulkar failed to add their contribution with bat. Sachin made 8 runs in the first and second innings. Monty Panesar took Sachin Tendulkar wickets in both the innings.
The Indian team never looked in control against the two spin bowlers of England, Monty Panesar and Graeme Swann, Montty took 6 wickets and Swann took four wickets in the second Indian innings.
Indian team was bowled out for just 141 runs and 57 runs was the target for the England team which they achieved very easily. Opener Alastair Cook (18) and Nick Compton (30) reached the target in just 9.4 overs.
Further, Kevin Pietersen was awarded with the Man-Of-The-Match award for his superb 186 runs knock in the first innings.
After match presentation, India captain MS Dhoni said, "Monty bowled really well. All get turn, but the pace he bowled at made sure that the batsmen were on the front foot. To some extent, yes I am disappointed with our spinners. We let England bat back. Could have brought them forwarded. All of a sudden they have to change their plan. Change of conditions from Ahmedabad. Always interesting. When two best sides are playing, series are close. It will be a test of character in the two coming games."
England captain Alastair Cook said, "Without a doubt, great win." He said, "Can't fault the effort of the lads. I could have called heads. Obviously an important toss. The way we bowled on that first day it was fantastic. You don't need to tell KP anything. Great to watch from the other end. Credit to the way Swanny and Monty bowled. Brilliant performance."
Man-of-the-Match winner Kevin Pietersen said, "Yesterday I said Test hundreds feel a lot better when you win. Panesar and Swann were outstanding. Cooky didn't talk about himself, but he was outstanding. What a difference a week makes."
He said, "The boys have come back is great. Cricket wise, it is not bad now. Thanks to the guys in the dressing room and the management. Every day you put on an England support, it is special. Thanks to the supporters who have travelled, and also the Indian support. They have been great too. You have to trust your defence, that is the big difference. You play sweep shots early on, it doesn't look that good."