Several alerts struck off at South pacific islands following ricks of tsunami after a strong earthquake off the Solomon Islands on Wednesday.
A 8.0 magnitude earthquake sparked 0.9 meter tsunami, reported damaged the houses in the Solomons at the Santa Cruz islands, resulting tidal suge, reports said.
It has been said that several Solomon Islands villages damaged by the quake triggered with a much greater depth of 17.8 miles (28.7km).
The Pacific Tsunami Warning Center issued a warning for the Solomon Islands, Vanuatu, Nauru, Papua New Guinea, Tuvalu, New Caledonia, Kosrae, Fiji, Kiribati, and Wallis and Futuna Islands, reports further added.
However, later the Center canceled tsunami warnings and continues to watch other coastal areas including American, Australia and Samoa.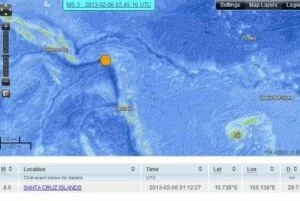 Japan's Meteorological Agency (JMA) has also refused to issue warning and said that as per their own calculations on the size of the earthquake, the impact is likely to be very small.
As per the US Geological Survey, the quake struck at a depth of 5.8 kilometers (3.6 miles), 50 miles west of Lata. There is no warning issued at Hawaii and North and South America.