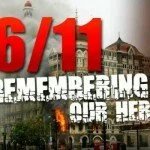 Today is the fourth anniversary of the 26/11 Mumbai attack and the whole country and Mumbai city paid tribute to those killed in the attack by 10 Lashkar-e-Taiba (LeT) terrorists.
It is said in reports that the main remembrance event will be taking place at Mumbai Police Gymkhana at Chowpatty where a 26/11 memorial has been erected
Floral tributes were paid to the victims as well as martyrs at the memorial on Monday morning. Maharashtra Governor K Sankaranarayanan, Chief Minister Prithviraj Chavan, Union Home Minister Sushilkumar Shinde, Maharashtra Home Minister RR Patil, Mumbai Police Commissioner Satyapal Singh and others were present at the event.
Those who were present in the event includes family members of security personnel who were killed, victims of terror attack and some survivors were also present, and all the people took part in the anti-terror operations.
Tight security has been done in the city for the fourth anniversary of the 26/11 Mumbai attacks. Few days back, LeT terrorist and only alive terrorist of 26/11 attack, Ajmal Kasab was hanged till death.
Mumbai Police Commissioner Satyapal Singh told media that there have been tight security measures in the city though there is no specific threats.
Commemoration events will be taking place at Chhatrapati Shivaji Terminus, Taj Mahal Palace and Tower hotel, Hotel Trident, Leopold Cafe and Nariman House, which were targeted by the terrorists who sneaked into Mumbai through the Arabian Sea and landed at Colaba.
The operation to kill LeT terrorists take 60 hours to complete and around 166 people were killed and more than 300 left injured.