As count down of votes for the 60 Assembly seats elections in three northeastern states – Nagaland, Meghalaya and Tripura- has started on Thursday, now all eyes are fixed on it.
Leaving behind Congress, the CPI(M) is at the top rank with 43 seats in Tripura to go forward aiming to get power in the state, fresh reports said.
The entire nation is in wait to see Chief Minister Manik Sarkar faith whether to lead the state, has to be done in favour of West Bengal and Kerala respectively.
In Nagaland, where the elections set for 59 of the 60 Assembly seats, the NPF is leading in 16 seats, hoping to witness a third consecutive victory this year, reports said.
Shocking, NPF's leading witness is the biggest wondering fact for all despite being mostly criticized by the arrest of top leader and home minister Imkong L Imchen following seizure more than Rs One crore, sources said.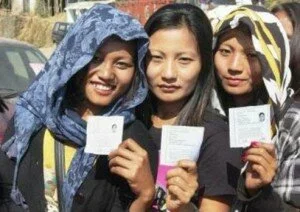 Congress, who is weak in Nagaland, hopes to secure its position in Meghalaya, leading with 22 seats.
Northeastern Assembly elections in the three states were held February 14 and February 23.