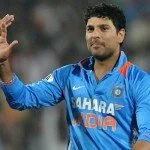 The Indian cricket team tasted the victory for the first time after loosing Test series against England 2-1, by beating England in the first Twenty20 international played Subrata Roy Sahara Stadium, Pune with 13 balls remaining.
Earlier, Indian captain MS Dhoni has won the toss and elected to field first.
The opening pair of England, Lumb and Hales started well but lost the wicket of Lumb in the first over of R Ashvin. However, Wright and Hales thereafter played some good cricketing shorts.
Hales was on fire, hitting 56 runs from just 35 balls with seven fours and two sixes, and he was well supported by Wright, hitting 34 runs from 21 balls with three fours and one huge six.
Yuvraj Singh came to bowl and took the important wickets of Hales, Lumb and Captain Morgan. England made 157 runs in their 20-overs play.
Chasing a target of 158 runs, India started well with opener Gautam Gambhir and Ajinkya Rahane. However, Gambhir and Rahane lost their wickets with poor shorts.
But, Yuvraj Singh and Virat Kohli took the charge and kept on playing good cricket, Yuvraj hitting much needed 38 runs from just 21 balls with three huge sixes and two fours. Virat Kohli played 21 runs knock. They both made a strong partnership of 49 runs for the third wicket stand.
All-rounder Suresh Raina also played quickfire 26 runs from 19 balls and captain cool, MS Dhoni hitting final winning run on the final ball of 18th over.
Yuvraj Singh named Man-of-the-Match for his all-round performance.
After match presentation:
England Twenty20 captain Eoin Morgan said, "We lacked some discipline with the batting, Alex Hales did well but we lacked about 15-20 runs. We never seemed to get going, we lost wickets. We didn't get the early wickets but we always though we were in the game, and it's tough defending that score. We're a young side and we've shown a lot of promise, we'll have to pick ourselves up."
India's captain, MS Dhoni: "The pressure was on the bowlers, it was important from the eighth over onwards that we kept on top of things, Yuvraj was brilliant, I thought he bowled really well at the right time. I was a bit worried because they got off to a flying start but Ashwin bowled well in the first three overs. Every bowler apart from Yuvraj bowled one bad over but overall it was a good performance. In the shorter formats we have done quite well and it builds the confidence."
Yuvraj Singh is named Man of the Match: "When it comes to T20 I like to express myself. I try to hit everything straight and see how it goes. I tried to bowl a bit slow, I thought that might help, tried not to give any loose balls. Chasing was a good idea because of the dew and the ball comes on later in the day. I just need to keep playing, keep hitting the ball straight. I want to play as much as possible, train harder, work harder."