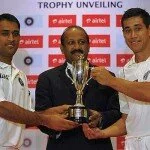 The Indian cricket team is all set to play New Zealand cricket team tomorrow. Team India will be playing New Zealand in the absence of VVS Laxman, who announced his retirement from the international cricket few days back.
Reports have said that due to the absence of local cricket, VVS Laxman, the sale of tickets is less, said Hyderabad Cricket Association [HCA].
In a statement issued by the HCA, just 2500 tickets were sold so far for the five-days match in a 39,000 capacity Rajiv Gandhi International Stadium.
Talking to media, HCA executive committee member, Gerard Carr said, "We would be happy to see a crowd of 7,000 to 10,000.Ticket sales have been poor and the retirement of Laxman has compounded the woes."
Further, he said, "The Test match viewership is going down. But we expected the crowd to fill up to see a last glimpse of Laxman in India colours. But it won't happen."
Revealing details about the sale of tickets, he said, "Tickets worth around Rs 10 lakh have been sold for the entire five-day duration. This, however, does not include the online booking. We hope the crowd to fill up during the weekend."
In the last match played at the ground was in November 2010, when Brendon McCullum cracked double hundred for New Zealand in second innings, Harbhajan Singh also scored unbeaten hundred in that match. The match ended with no result, it was draw.