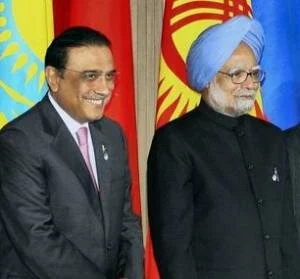 New Delhi, the national capital is set to host high profile Pakistan President Asif Ali Zardari today as he is reaching in India.
According to source report, amid tight security, Zardari is, for a day-long visit, likely to arrive at 11.30 am and go forward to the Prime Minister's official residence at 7 Race Course Road as his first one-on-one meeting schedule.
Water Resources Minister Pawan Kumar Bansal will welcome President at airport.
While relating the main reason of his visit to India with Hafiz Saeed, Zardari said that this meeting with Prime Minister Manmohan Singh will not focused on issue over Hafiz Saeed, the 26/11 mastermind LeT founder.
"My stance on Saeed is not different from that of my government. My visit to India is of a religious nature and I do not think Manmohan Singh will make me sit (and discuss only) this issue," Zardari told reporters in Lahore.
The main focus of this private meeting will be to resolve several conceded issues that help to make better relations between both nations.
However, just one the day of the US announcement over a bounty on the 26/11 mastermind Hafiz Saeed, there is a huge strong wave came in Parliament House of India from opposition along with allies. All they took Manmohan Singh under huge pressure to talk with Zardri in meeting about prosecute Saeed for his role in the 26/11 Mumbai attacks.
Indian primary wants to know about whether Pakistan will act against him, but meanwhile, Zardari will not carry forward the issue. It has been said that Zardari will offer Singh to visit Pakistan.
Moreover, after controversial crucial meeting with Singh, Zardari will have sit for lunch with him along with high profile state minister and after that will go ahead to Ajmer.