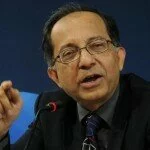 Within next 6 months, Indian business sector will see with many important reforming changes that are to be positive or negative as compare to present, Chief Economic Advisor Kaushik Basu remarked in his statement at the Washington-based think tank.
The reforms are in line of subsidies and diesel decontrol and FDI in retail, but as per him, reform in GST (Goods and Services Tax) may put investor in difficult situations as present is good for them.
Welcoming Finance Minister Budget report 2012-13, he asked to use the UID system that helps to decrease subsidary's leakage. "In India the leakage is so big that if we can cut this down, it will help cut down our fiscal deficit … So that's a very important reform, which I think will happen," he said while talking to reporters.
In his view, FDI line of retailing will help to enhance the Indian farmers and small producers business that directly uplift investor mobilization. There is also a hope of partial diesel decontrol.
India should wait till 2014 because there is no possibility of the biggest reform in upcoming near future. Having lighter movement of 2014 general elections, a need is to prepared itself for the possible European crisis of 2014 with an appropriate measures.
Addressing the possible European crisis, the Chief Economic Advisor remarked at the Carnegie Endowment for International Peace, there have nothing to do with Indian elections. "There is nothing to clarify. I meant everything that I said; the lack of clarity was in its reporting."
"We in India love politics so much that for us 2014 is nothing but the year of Indian general elections. India has gone through a difficult year with some slowdown in growth," he further added as per his measures.