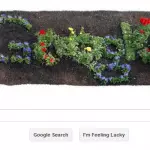 On the eve of 42nd anniversary of Earth day, Google Doogle is celebrating its 1348th Google doodle as the Earth Day with its 14 years old presenting norm to issue a Logo.
The Earth Day Google Doodle 2012 is marked as animated flowers doodle on its homepage that represents the green plants with spell of Google.
As animated logo rolls, the colorful blooming flowers in purple, red and yellow will captured an image of Google.
From 2001, Google has marked every Earth Day with a doodle.
However, 22 April of each year is celebrated as Earth Day since the birth of the modern environmental movement in 1970. Gaylord Nelson, a U.S. Senator, is the person behind this celebration.
By inspiring from the student anti-war (Vietnam) movement after witnessing a massive oil spill in Santa Barbara, California,1969, he thought about to raise that energy for environmental protection onto the national political agenda as a "national teach-in on the environment" idea.
Then with help of Pete McCloskey, a conservation-minded Republican Congressman and Denis Hayes, a national coordinator, they made 85 members national staff to promote events across the land.
This first ever original Earth day led to the creation of the United States Environmental Protection Agency was celebrated by 20 million Americans, including thousands of colleges and universities studies, Republicans and Democrats, rich and poor, city slickers and farmers, tycoons who came into the streets, parks, and auditoriums to protest for a healthy and protective environment.
The global Earth Day movement that has over 175 countries members, went global in 1990. The day is marked to raise awareness and appreciation for our planet's environment.