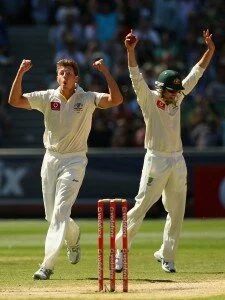 As per the latest Cricket updates, India lost the opening test match against Australia by 122 runs at the Melbourne Cricket Ground on Thursday.
While batting in second innings, India team has got a target of 292 runs by the home side, but the India team was bowled out on 169 runs.
Earlier, in the start of the day four, the home side added 61 more runs in their last night's total, before they were dismissed for 240 runs in their second innings.
The master blaster from India, Sachin Tendulkar once again fails to show his magic in Australia and was out for 32 individual score in the 27th over of the innings.
The most successful bowler from Australia was James Pattinson, who was later named as Man-Of-The-Match.
Australia's fast bowlers, James Pattinson, Ben Hilfenhaus and Peter Siddle, bowled superbly and at one stage India was 81 for six on Tendulkar's dismissal.
The victory gave Australia first blood in the four-Test Border-Gavaskar Trophy series with the second Test beginning in Sydney on Tuesday.
James Pattinson is the Man of the Match. Pattinson: "It's a pretty surreal feeling right now. We were coming off a bit of pressure after losing in Hobart to New Zealand. It is fantastic to win here at the MCG. Victorian supporters are the best in the business. Siddle is fantastic, he keeps everyone in the side going."
Talking to media, Australia Captain, Clarke said, "Our tail were outstanding with their batting, and we have to give full credit to the bowlers. You always want to have plans against whatever team you play and we were able to execute the plans. Credit has to go to Ponting and Hussey as well. India are a fantastic team. It is great to have them here in Australia. We know they'll come hard at us in Sydney."
While, after loosing the 1st test match, indian captain, MS Dhoni said, "Bowlers brought us back in to the game. We were short by 50-odd runs in the first innings. Their lower order scored some runs, if we had got them earlier, we would have had 50-60 runs less to chase. We are known to be tentative starters, I think in the next game we will be slightly better. You have to give credit to the Australia bowlers for the way they bowled."
Match scores: Australia 333 and 240; India 282 and 169.