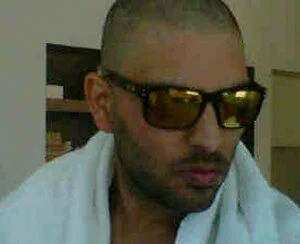 The latest updates of Yuvraj Singh's health are that the player is undergoing chemotherapy in the US for a rare germ cell cancer.
The cricketer also posted a picture on Twitter that shows him without his hair.
Yuvraj Singh tweeted: "Finally the hair has gone, But #livstrong #yuvstrong."
The superb middle-order batsman from the Indian cricket team further writes that he is recovering well and can't wait to get back into the national team.
He further thanked his fans and promised to make a powerful comeback in the Indian cricket team. He posted that he spent 20 min on the cycle in the gym and says that Amul's new ad Yu and Vi will fight this together 'is very cute'.
Earlier on Wednesday, Yuvraj talked to media, for the first time since the news of his cancer came into light. Read more