Italian marines will now be tried in special court set up in the Patiala House Courts in New Delhi, according to latest reports.
The decision has been taken by the Delhi High Court and for that the Chief Metropolitan Magistrate (CMM) of Patiala House Court, Amit Bansal would be appointed for hearing the case.
Rejecting Kerala govt's appeal to to set up the special court to try the Italian marines in Kerala, instead of in Delhi, Center said that Kerala government has no jurisdiction in the matter.
Meanwhile, HC decision will make easy hearing for the Italian Marines to be stay in the Italian embassy, but difficult for the eye witnesses, mostly families of poor fishermen from Kerala, to attend the hearing in Delhi.
Two Italian marines Massimiliano Lattore and Salvatore Girone are accused of killing two Indian fishermen off Kerala coast on board an Italian vessel 'Enrica Lexie' on February 15 last year.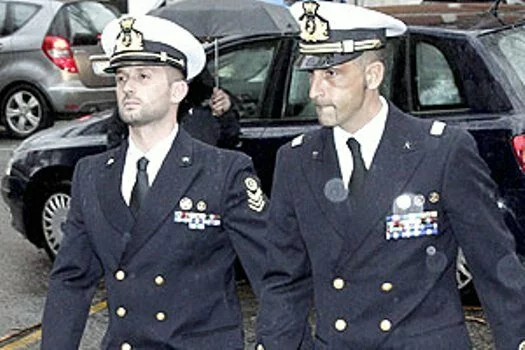 On Friday, they came back after a dramatic diplomatic crisis between India-Italy over Italy's refusal to send back two accused to India to face trial.
After a written undertaking by Italian envoy Daniele Mancini to return marines to stand trial, Supreme Court of India on February 22 allowed marines to go to Italy for four weeks to cast their vote in the general elections there, returned on March 22. But Italy rejected to do same and then the court banned Mancini from leaving India.