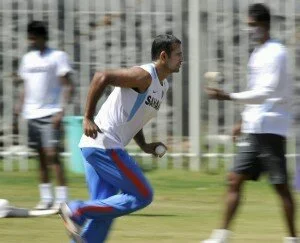 According to the fresh reports from the cricket, the Stand-in Indian captain Gautam Gambhir has won the toss and elected to bat against the West Indies in fifth one-dayer at MA Chidambaram stadium in Chennai on Sunday.
In the meantime, the India selectors have rested Virender Sehwag and R Ashwin and gave chance to Ajinkya Rahane and Irfan Pathan to play in the fifith ODI.
India has already won the series, and now they would surely try to end the series in a fine way. India team will soon fly to Australia thereafter. India won the last ODI with the superb record breaking double century by Indian captain Virender Sehwag. He scored 219 runs in the last ODI and India won the match by 153 runs.
On the other hand, West Indies have replaced the injured Ravi Rampaul and Danza Hyatt with Anthony Martin and Jason Mohammed.
India team :-
PA Patel†, G Gambhir*, V Kohli, RG Sharma, SK Raina, RA Jadeja, MK Tiwary, A Mithun, R Sharma, AM Rahane, IK Pathan
West Indies team:-
LMP Simmons, KOA Powell, MN Samuels, JN Mohammed, KA Pollard, D Ramdin†, AD Russell, DJG Sammy*, KAJ Roach, SP Narine, A Martin.
Umpires S Asnani and AL Hill (New Zealand)
TV umpire VA Kulkarni
Match referee DC Boon (Australia)
Reserve umpire CK Nandan