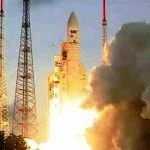 According to latest news, country's advanced communication satellite GSAT-10 was today successfully launched on board Ariane-5 rocket from Europe's spaceport in French Guiana.
It is said in reports that the GSAT-10 is designed for a life period of around 15-years and is expected to be operational by November and starts working, Direct-To-Home and radio navigation services.
The heaviest satellite GSAT-1o weights around 3,400 kg and it is built by Bangalore-headquartered Indian Space Research Organisation [ISRO].
Further, the GSAT-10 is the 101st space mission of ISRO.
Arianespace's heavy lifting Ariane-5 ECA rocket was successfully lift-off GSAT-10 about 30 minutes after the blast off from the European launch pad in South America at 2.48 am, earlier to which it injected European co-passenger ASTRA 2F into orbit.
GSAT-10 is loaded with 30 transponders (12 Ku-band, 12 C-band and six Extended C-Band), it is said that the new satellite will offer vital augmentation to INSAT/GSAT transponder capacity.
The heaviest satellite GSAT-10 has a navigation payload — GAGAN (GPS aided Geo Augmented Navigation) — which would offer better access of GPS signals (of better than seven metres) to be used by Airports Authority of India for civil aviation requirements.
In addition, this is the 2nd satellite in INSAT/GSAT constellation with GAGAN payload after GSAT-8, launched in May last year.