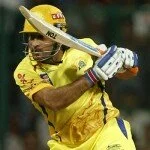 Briefly on Wednesday, IPL's official website listed a final between Kolkata Knight Riders and Chennai Super
The Chennai Super Kings [CSK] skipper MS Dhoni powered his team to a 38 runs win over the Mumbai Indians [MI] in the IPL 2012 Elimination Match Played at M Chinnaswamy Stadium, Bangalore 23 May 2012 – day/night (20-over match).
The 51 runs knock by the CSK skipper from just 20 balls with six fours and two sixes helped his team to a 187 runs total in the 20 overs.
Chasing a total of 188 runs in 20 overs, Mumbai Indians lost opener master blaster Sachin Tendulkar early and none of the batsman looked comfortable in the centre. The bowling attack of CSK was so good, every bowler made his presence felt.
Mumbai Indians made only 149 runs in the 20 overs and lost the match by 38 runs.
Presentation:
CSK skipper MS Dhoni, "We were just watching and enjoying the games when we were done with our league stage, all the results went our way. Maybe I should keep my hair longer if it can get me the runs, but a lot of credit to Badri and Hussey. Badri is an unsung hero, later me and Bravo could do well with the bat. The helicopter shot was because of the tennis ball cricket, used to play from 17-18 yards and the bowlers sent down a lot of yorkers but not an easy shot to play either, could end up hitting the ankles as well!"
Mumbai Indians skipper Harbhajan Singh, "Obviously, we are disappointed, but cannot change the result, CSK played like champions, Dhoni's innings was the game-changer, took it away from us. We could not do too much about his innings, we have not achieved as much as we should have."
He said, "The reason for removing myself from the attack was to get RP Singh a bowl, first ball he bowled, the edge should have gone to hand and missed."
MS Dhoni is also the man of the match.
Scoreboard
Chennai Super Kings: M. Vijay c Rohit b Kulkarni 1 (5b), M. Hussey c Kulkarni b Franklin 49 (39b, 8×4, 1×6), S. Raina b Kulkarni 0 (1b), S. Badrinath c Rohit b Pollard 47 (39b, 6×4, 1×6), M.S. Dhoni (not out) 51 (20b, 6×4, 2×6), R. Jadeja c Rohit b Kulkarni 1 (2b), D. Bravo (not out) 33 (14b, 3×4, 2×6). Extras (lb-2, w-3): 5; Total (for five wkts. in 20 overs): 187.
Fall of wickets: 1-1 (Vijay), 2-1 (Raina), 3-95 (Badrinath), 4-106 (Hussey), 5-114 (Jadeja).
Mumbai Indians bowling: Harbhajan 3-1-20-0, Kulkarni 4-0-46-3, R.P. Singh 4-0-34-0, Malinga 4-0-41-0, Pollard 3-0-26-1, Smith 1-0-6-0, Franklin 1-0-12-1.
Mumbai Indians: S. Tendulkar (run out) 11 (11b, 2×4), D. Smith c Jadeja b Jakati 38 (22b, 5×4, 2×6), Rohit c Dhoni b Morkel 14 (19b), D. Karthik c Dhoni b Morkel 6 (4b, 1×4), J. Franklin c Dhoni b Bravo 13 (13b, 1×6), A. Rayudu c Vijay b Ashwin 11 (7b, 2×4), K. Pollard c Raina b Bravo 16 (19b, 1×4, 1×6), Harbhajan c Raina b Hilfenhaus 1 (4b), L. Malinga b Jadeja 17 (16b, 1×4, 1×6), D. Kulkarni (not out) 10 (5b, 2×4), R.P. Singh (not out) 1 (1b). Extras (lb-5, w-5, nb-1): 11; Total (for nine wkts. in 20 overs): 149.
Fall of wickets: 1-47 (Tendulkar), 2-55 (Smith), 3-68 (Karthik), 4-77 (Rohit), 5-96 (Rayudu), 6-102 (Franklin), 7-103 (Harbhajan), 8-129 (Pollard), 9-148 (Malinga).
Chennai Super Kings bowling: Jakati 4-0-25-1, Hilfenhaus 4-0-45-1, Ashwin 3-0-18-1, Jadeja 2-0-15-1, Morkel 4-0-31-2, Bravo 3-0-10-2.
Man-of-the-Match: M.S. Dhoni.
Umpires BF Bowden and HDPK Dharmasena
TV umpire SJA Taufel
Match referee RS Madugalle
Reserve umpire CK Nandan