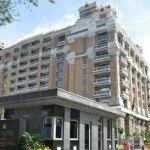 The world largest and luxurious green hotel called "Grand Chola" in Guindy, Chennai has launched by ITC Group, inaugurated by Chief Minister J Jayalalithaa, raising higher scope in hospitality sectors of the country.
After Renaissance and Grand Hyatt in Mumbai, Grand Chola is the third largest hotel in the country costing around Rs 1,200 crore, covering 1.5 million square feet area.
This luxurious ITC Group's Grand Chola is designed in 600 rooms, 100,000 sq ft of banquet and convention facilities, 10 food outlets and a 23,000 square feet of kaya kalp spa and 21,000 square feet of luxury retail space.
The world's highest LEED platinum green hotel is featuring excellent interiors as well as exteriors which are decadent and luxurious, adding its beauty with tall pillars of flowers.
With the modern technology, the ITC staff performs tech managing operations, facilitates iPad controlled technology to its 1000 employees. The hotel's signature asset is of 30,000 square feet pillar-less ballroom which takes just five minutes to walk across from end-to-end, source said.
Still two more in waiting list are to be launch by the company in the city, increasing Chennai's market scope in India's economy. The sevens stars largest hotel complex ITC Grand Chola which is inspired by the rich legacy of the Chola dynasty, would give tough competition to the Taj.