News have said that around 14 people feared killed and 5 still missing after a ferry carrying 50 people collided with a sand barge and sank on Bangladesh's giant Meghna River on Friday, officials said on Saturday.
Talking to media, administrator of Munshiganj district, where the accident occurred, Mohammad Saiful Hassan Badal said, "Rescuers found 12 dead bodies inside the salvaged ferry, while two bodies were recovered yesterday."
Further, it is said in news that six of the dead were children, aged between two and 10.
Mr. Badal said, "We called off the rescue operations with five people missing."
He said that around half of the passengers managed to save their lives as they can swim, and some were rescued by local villagers.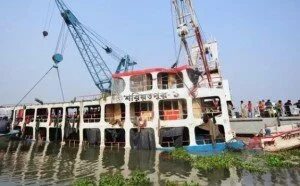 The Meghna River is one of three rivers that forms the Ganges Delta.
It is said that unregulated and overcrowded ferries often run in to trouble on low-lying Bangladesh's extensive network of rivers.
Many people lost their lives in such accidents in the past as well, however, the Bangladesh government vows to crack down on unlicensed operators.