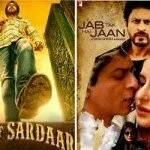 Two mega movies of bollywood mega stars  Shahrukh Khan's 'Jab Tak Hai Jaan' (JTHJ) and Ajay Devgn's  'Son Of Sardaar' (SOS) has come on this Tuesday across theatres as the biggest Diwali Bumper for their audicence which were eaferly awaiting this date of release. 
Offering a toughest choice to Pubice between JTHJ and SOS, boolywood cinema rocked with great opening by both diferent to each other one is a romantic drama and another is a comic caper.
Shah Rukh Khan, Anushka Sharma and Katrina Kaif starrer JTHJ which has released in 2,500 screens, has garned Rs 35 crore in its first two days while Ajay Devgn, Sonakshi Sinha and Sanjay Dutt starrer SOS, releasing in 2,000 screens, has gained Rs 26.92 crore in the same period.
This year Diwlai is the best Diwali for traders as profiting all the market with huge opening, following a close war with each other.  
One side JTHJ, a romantic drama managed with SRK- Katrina romance, Yash Chopra 'the god of Romance',  Anushka Sharma, A.R. Rahman and Gulzar, showed nuanced complexities set in India and London with bug off songs, Ajay starrer SOS is a complete comedy with popular songs of Honey Singh and Mika, beating on tracks such as Pon Pon as sonn as promos were published..
 Hopes are that two mega films with their first  week will join Bollywood's Rs.100-crore target.