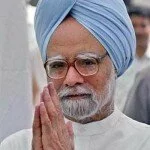 Amid pressure over UPA-II FDI reforms along with debut of Parliamentary Winter Session, Prime Minister Manmohan Singh will host a dinner for the BJP leaders today at his own residence.
Following his dinner diplomacy, Mr. Singh just a day before has hosted a dinner for his party UPA allies on Friday night and now second move towards BJP Opposition Party, seek his futuristic strategy to get overall support in politicla reform.
 In list of BJP senior leaders whom Mr. Singh has invited for get together with a dinner, Senior BJP leader LK Advani, Leader of Opposition in the Lok Sabha and Rajya Sabha Sushma Swaraj and Arun Jaitley are among those. 
The winter session will start from November 22, in which several issues are to be discussed including UPA FDI reform, Grafts, Fuel prices and cap on subsidised LPG cylinders. 
As Trinamool Congress along with other opposition parties are ready to kick off a strong campagin and opposition against FDI,  dinner hosting by Mr. Singh is the biggest effort to ensure functioning of Session along with positive reaction over passing of FDI reforms along with Lokpal Bill, Land Acquisition Bill and the Food Bill , insurance and the pension acts amendment bills. 
UPA has to get suppport of SP and BSP due to majorseats holding parties as SP has 22 MPs and BSP with 21 MPs, and if it will fail then it have to go for BJD and JD(U) for bagging their support in reforms. 
Meanwhile, All the BJP's invited leaders will meet at 8 pm today at the residence of Mr. Singh as an attempt to completely break out the crucial deadlock just before session.