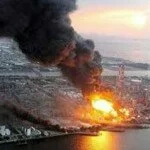 "The Fukushima nuclear disaster last year cannot be regarded as a natural disaster" this statement has come from the Japanese parliamentary 10-member panel a 641-page report today, which concluded the much horrible disaster was not due to the tsunami, but it was "a man-made".
The report said, last year Fukushima nuclear disaster is the result of a mix of "man-made" factors "could and should have been foreseen and prevented", due to lack of prevention guidance at proper time by regulators.
The condition of plant was then much worse that it could no guarantee that it bore the effect of earthquakes and tsunamis. In front of plant workers, also company and government officials were presented, Japanese panel committee chairman Kiyoshi Kurokawa said the report contains "proposals for the future" and urged Parliament to put them into action.
"Governments, regulatory authorities and Tokyo Electric Power lacked a sense of responsibility to protect people's lives and society," Diet's Fukushima Nuclear Accident Independent Investigation Commission said in a statement.
"The root causes were the organisational and regulatory systems and TEPCO management deliberately postponed decisions and actions, rather than issues relating to the competency of any specific individuals that were convenient for themselves," it further added, criticizing the then prime minister, Naoto Kan, who had interfered while respond to the terrible accident.
Since the happening of the world's one of the deadly nuclear crisis in Japan, this probe is the third one that also concluded an unclear behavior of TEPCO management.
It ordered to blast the company in fear of failure to disclose information. In place of issuing safety policy first, the management had followed cost-cutting steps as loss in nuclear power over the years.
Last year, in Fukushima nuclear disaster when reactors melted down and huge amount of radiation incurred, around 150,000 people left out from their homes, many of whom will never return. Then Prime Minister Naoto Kan had asked to resign for lacking the responsibility in handling of a natural disaster.