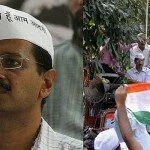 Delhi Police has released today the detained IAC activist Arvind Kejriwal along with 400 supporters, but not ending Khejriwal protest as the activist said to continue his protest at Parliament Street till the resignation of Law Minister Salman Khurshid not signed by PM Manmohan Singh.
Khejriwal were arrested yesterday along with handicapped supporters at the Rajiv Gandhi Stadium in Bawana and sent in a makeshift jail on the outskirts of the Outer Delhi after stroking a protest march towards Mr. Singh's residence. They tried to meet PM raising demand of resignation of Khurshid along with his wife Louise for alleged irregularities forging funding in NGO run by both, Khurshid and his wife.
"We will continue to protest and sit on a 'dharna' outside Parliament Street police station until Union Law Minister Salman Khurshid is sacked or resigns," Kejriwal said, accused police to torched them and government to cheating disabled people, corrupting and grabbing their money.
Describing Govt's arresting order as 'dadagiri', Khejriwal said it did that whatever and whenever it feels like. He urged youth to come in his protest as it is of common man and giving their support to throw out the UPA government ruling.
Calling young generation to come up as Bhagat Singh and Subhash Chandra Bose who scarified their life for country, Khjeriwal said, "My appeal to the youth – come and join. You are not doing favour to anyone. Fight for ur own future. Parliament Street police station (will be the) beginning of downfall of corrupt empire. Parliament Street police station will be the next Tahrir Square."
Meanwhile, in upcoming 'dharna' straight to the Parliament Street police station, IAC members Manish Sisodia, Kumar Biswas, Yogendra Yadav and Sanjay Singh will support Kejriwal and the protest will continue until final decision of Mr. Singh has taken out against Khurshid of his quit from the Cabinet.