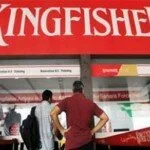 SBI said that it has disappointed with Kingfisher Airlines's funding raising plans as the airline has needed to infuse $1 billion.
The largest lender of KFA, SBI to whom airline have to pay Rs 1580 crore and the interest, announced to willing to support KFA as a going concern and for that it has likely given KFA time till November 30 to infuse equity.
"We are not interested where the capital is coming from. Whether it is coming from Mallya, group companies, outside, Indian, overseas, airlines, whatever be the source, we are agnostic about the source. But we would like to see capital being infused. How much capital infusion? We do not put a gun on their head. But the more that comes in, the better it is because airline is a very capital intensive business. I think about USD 1 billion would be a good starting point," Pratip Chaudhuri, chairman of SBI told reporters.
The debt-ridden Kingfisher  crisis that hit loss of airline around Rs 754 crore for the July-September quarter, also affected holidayers this festive season as 20-25%  traveling fare hike for Port Blair or Colombo in Diwali, Christmas-New Year and Pongal for the next three months.
Due to absence of KFA airline operations, passengers will have to face hike which is also due to increased demand during festival. It has been said that Port Blair fare is now set at between 11,700 and 22,000 on the eve of Diwali, while 14,000 to 22,000 on the eve of Christmas. Moreover, local routes like Delhi, Bangalore, Hyderabad, Mumbai, Kolkata and other cities would also face hike fare phase.