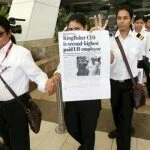 Situation went more tensed when the agitated employees rejected Kingfisher Airlines management's offer of payment of three months' salary, an attempt to end the 23-day-old strike.
Recent move by KFA just before Diwali festival has failed to change the employees' move to wash out a long strike for non payment of seven months salary. Under the offer, the management would paid the salary dues of one month in 24 hours, while other would be followed by instalments that fully clear till Diwali on November 13.
The strikers of its Delhi-based employees want to have atleast four-month wages with a written statement that assure their resumption to duty. They rejected KFA 's Monday offer saying that now there is enough  time for mgt to rethink and back on its words on salary payment, as per media information.
Indications are that KFA employees might re stroke a protest at Buddh International Circuit (BIC) in the Delhi from 26 October to 28 in which around 300 to 400 employees participate.
Employees claimed that this time airline would fulfill their demands as the protest venue is the same where the Formula One Indian Grand Prix race would hold, the Force team of KFA chairman Vijay Mallya would participate and he never want to such a protest that affect his position.
Meanwhile, troubles are more worsen for Mallya whose KFA flying license suspended by Director General of Civil Aviation (DGCA) for indefinite period and has no other option to arrange cash for employees.