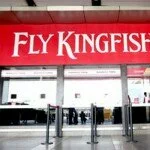 The cash beleaguered Kingfisher Airlines is likely to face the toughest phase in its journey as Directorate General of Civil Aviation (DGCA) seeks to suspend its flying licence today.
Being failed in presenting a reliable turnout plan on resolving the 21-day row with its employees over non-payment of seven-month salary dues as well as efficient response over DGCA deadline tag show cause notice as it extended its lockout till October 23, KFA has asked life breathing time to reply to the notice.
As per media information, DGCA is mulling and consulting its legal experts on what action should be taken against KFA whether to cancel license or made it on cards. Announcing unlikely cancellation Kingfisher Airline's license, a source said, "We will take a view on this very soon… probably within a couple of days."
The Vijay Mallya-promoted airline was to respond to a show-cause notice issued by the regulator by today (October 20), but that seems unlikely as the airline has sent out a request for more time to do so, promising to resume operations by October 6.
The DGCA will consider all legal implications before suspending the licence, the sources said. It had asked the airline, which has not operated a single flight since October 1, to explain why its licence should not be cancelled.
Reacting over Aviation Regulator's October 5 Show Cause notice, KFA announced that extension of it's ongoing lockout to October 23 and also said that a requesting letter has been written to the regulator to ask some time on the show-cause notice to response.
Meanwhile, a little hope to be resume KFA operations very soon has arisen by November 6 as the company said, "We had a positive meeting with employee representatives on October 17 and are hopeful of reaching common ground when we meet again next week. Currently, we anticipate resuming operations on November 6."