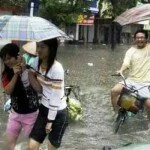 Heavy rains and floods have left at least 16 people as dead while injuring 38 others in Vietnam's northern and central provinces, said the country's National Committee for Search and Rescue Sunday.
Floods have submerged over 3,500 houses and over 22,000 hectares of crops and fruit trees, mainly in the two provinces of Ha Tinh and Nghe An, Xinhua reported.
According to the Central Hydro-meteorological Forecasting Centre, floods on rivers from Thanh Hoa to Nghe An provinces and in low-lying areas have reduced but high risk still remains.
Local authorities have mobilised more than 14,000 people to deal with floods' consequences. (IANS)