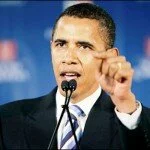 President Barack Obama has opened up a five point lead, his largest margin since early July, over his Republican challenger Mitt Romney, in Gallup's daily tracking poll, three days after the successful Democratic convention.
Obama has 49 percent among registered voters nationwide, while Romney has 44 percent, according to the poll released Sunday.
The survey was conducted Sep 2-8, a time window that included the entirety of the Democratic National Convention in Charlotte, North Carolina, as well as two days before and two days after the event.
The same poll showed Obama with only a one-point margin (47 percent-46 percent) one week ago as he headed into the convention, which came a week after the Republican convention in Tampa, Florida.
According to a CNN/ORC International Poll released Tuesday, Romney received a one point bounce after the Republican event, going from 47 percent to 48 percent compared to Obama's 49 percent.
The last time Obama held a five-point margin over Romney occurred on July 1, when the president had 48 percent and Romney had 43 percent, CNN said.
While it's not unusual for a candidate to get a modest boost in the polls after a convention, a senior Obama campaign official said last week that big swings are becoming less common due to conventions now falling so late in the election year.
Candidates no longer get double-digit bounces, like the 16-point bump former President Bill Clinton received after the 1992 convention in New York, the official was quoted as saying in Charlotte,
Because of higher interest early on and long primary seasons, the "process is fundamentally different" now so that voters get exposed to the candidates much sooner and form their opinions before the conventions, he said. (IANS)