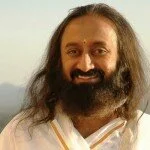 The land of tango and Latin America's largest country, Argentina, Sunday rocked to the rhythmic beats of Indian spiritual guru and Art of Living (AoL) founder Sri Sri Ravi Shankar.
Over 100,000 people gathered in the sprawling grounds near Dorrego-Figuera Alcorta Avenues here to pray, meditate and dance to the tunes of Indian devotional music and songs with heavy Spanish accent for a stress-free and violence-free society the world over.
"Thousands of people in 300 cities across the world joined us in 'Planet Meditates', a programme that was webcast and telecast live by local Spanish channels," AoL volunteer Maria Silvina told IANS.
The sun shone and a cool winter breeze wafted through the meadows. All roads from noon onwards led to the venue for the 'blast' as hundreds of cars and other types of vehicles drove as many people from suburbs and nearby towns to the spot.
"We have never seen anything like this before in Buenos Aires. Our guru (Ravi Shankar) is becoming more popular than rock stars like Patricia Sosa or soccer stars like Diego Maradona or Lionel Messi, who represent the country as icons," Silvinia claimed.
Four hours before Ravi Shankar stepped onto the huge makeshift dais, people began trooping into the landscape venue to occupy every inch of space.
Clad in white robes and creamy kurta, the 56-year-old seer greeted the audience in Spanish and guided them through the 30-minute mediation that had breathing exercises and prayers for personal and social well-being.
"O La Argentina! Hello everyone! I am very happy to be here. We are joined by thousands of others in 300 cities across the world, including India to pray and meditate for peace within and prosperity in the nations," Ravi Shankar told the audience, using a cordless speaker even as his voice carried across the grounds.
Asserting that peace within could help overcome stress, depression and violence, the guru said that feelings were only vibration, and meditation was equally important to create a society free from social evils.
"Our body must be free from illness, mind from stress and heart from sadness. Then everybody will be happy. When I was a kid, I dreamt of creating a global family and today it is a reality. I love you all," Ravi Shankar said in English, which was simultaneously translated into Spanish by his ardent devotee Beatrice Goyoaga.
Lauding the spirit of Argentines for participating in the thousands, the AoL founder said a lot of hard work lay ahead to expand the activity and convert the programme into a mass movement.
"The task ahead is challenging to unite people and create a society free from stress, violence, hatred, prejudice and exploitation. Life is so short and we have very little time to express love. Hence, we have to inspire others to join the system and be an ideal example for others to follow," Ravi Shankar pointed out.
Referring to the work done by the foundation's teachers and volunteers silently in Argentina and other Latin countries, the guru exhorted the audience to salute all those working in slums, prisons and conflict zones.
"When there is a sense of belonging, crime and corruption will vanish from society. Compassion and love cannot be cultivated if our mind is inhibited. We need to educate people in peace, love, integrity, honesty and sincerity," he observed.
After the meditation and discourse, Argentina's most popular singer Sasa treated the audience to a couple of lilting Spanish songs, followed by AoL devotional songs, including "Om Shanti, Shanti" and "Ganapati Baba Mauriya" dedicated to the elephant god Ganesh. (IANS)