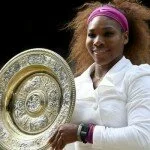 American Serena Williams won the last four games to beat top ranked Victoria Azarenka of Belarus 6-2, 2-6 and 7-5 to take her fourth US Open title and 15th Grand Slam title overall here Sunday.
Serena had a 9-1 record against Azarenka prior to the final and she hadn't dropped a set in the tournament, losing only 19 games through six matches before Sunday, reports Xinhua.
"Serena deserves the win. She showed how true of a champion she is," said Azarenka, "I definitely gave it all today. I will have no regrets."
However, Azarenka hadn't dropped a three-set match all season until Sunday, going 12-0 in matches that went the distance, including victories over defending US Open champion Sam Stosur in the quarterfinals and 2006 champion Maria Sharapova in the semifinals.
And Azarenka was even two points away from the championship victory at 30-30 with Williams serving, but couldn't convert. And when she served for the victory at 5-4, she made three errors in the game to show the jitters that are understandable as this was only her second career Grand Slam final.
Serena, who turns 31 Sep 26, is the first 30-year-old woman to win the US Open since Martina Navratilova in 1987. She won her very first major championship at age 17 at the 1999 US Open. (IANS)