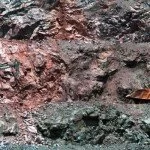 Iron ore generated from Goa's 90 plus mines should be auctioned and extraction be brought down from over 50 million tonnes to 10 million tonnes, an online petition addressed to Chief minister Manohar Parrikar demanded Monday.
The petition, seeking the protection of the state's resources and nationalisation, went online on www.change.org Monday morning, a few days after the Justice M.B. Shah Commission alleged that there was a Rs.35,000 crore illegal mining scam in Goa.
"These assets should be auctioned for limited periods to maximize value to the state, after geological data is collected by the state," the online petition states.
The petition was initiated by an online group Goa Speaks. It has demanded that all mines within five kilometres of wildlife sanctuaries be closed, as also those located close to the catchment area of the Selaulim dam, which provides water to nearly half of Goa's population of 14 lakh.
"Government will compute the costs of damage done to the environment of Goa and demand the necessary compensation from the Goa Mineral Ore Exporters Association (GMOEA) and its members," the petition states.
The GMOEA is an association of ore exporters from Goa and accounts for a majority of the ore extracting units in the state.
The petition has also sought a criminal enquiry into the theft of ore and an assurance from chief minister Manohar Parrikar, also the state mines minister, to "walk the talk of Zero Corruption on mining illegalities".
One of Parrikar's main poll planks in the run up to the March assembly polls was "zero tolerance to corruption".
Said Albertina Almeida, a lawyer and a rights activist based in Panaji, who was among the early signatories of the online petition: "We cannot afford any further destruction of our peoples by mining illegalities. There needs to be a strong deterrent."
Many Goans living abroad have signed the petition. Australia-based Goan Alvaro Peres da Costa said: "I am a Goan, and I love Goa dearly. Those who have harmed it with all the illegalities and caused impoverishment of the common man must be given exemplary punishment – and at this stage, it behoves Mr Parrikar to mete it out as promised."
Robert Williamson, a British national, said he signed the petition because "so many of my friends in Goa are disgusted with the corruption generated by this illegal mining".
The Shah commission which tabled its report Friday in parliament has said Goa's politicians, bureaucrats and enforcement agencies colluded with mining industries, resulting in a mining scam that caused losses to the tune of Rs. 35,000 crore (approx) to the state.
The Commission has virtually named all major mining companies in Goa, accusing them of large scale mining illegalities. (IANS)