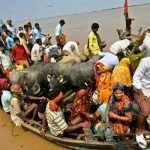 At least six people, including two children and two women, drowned and nearly 20 people were missing after an overcrowded boat capsized in the Sone river in Bihar's Bhojpur district early Monday, police said.
The ferry, which could seat only 14 but was carrying 40 people, capsized near Bhojpur district's Khair village, about 70 km from here.
Nearly half a dozen people managed to swim to safety. Some were rescued by local villagers, Bhojpur Superintendent of Police S.R. Nayak said.
Nayak said that the death toll may rise.
A district administration official said six bodies had been recovered, and that the search operation would continue.
The boat was ferrying people who were returning from a village fair in neighbouring Arwal district. (IANS)