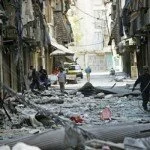 At least 17 people were killed and over 40 wounded after a car loaded with explosives went off in Syria's Aleppo city Sunday night, SANA news agency reported.
The blast occurred in the Al-Malab Al-Baladi neighbourhood near Al-Hayat Hospital and the Central Hospital. The powerful explosion also damaged a nearby elementary school and other buildings.
Aleppo has been the scene of heavy fighting since mid-July, when rebel forces launched an all-out assault to overrun Syria's commercial hub. The rebels say their goal is to turn Aleppo into a "Syrian Benghazi", a reference to an opposition stronghold in north-eastern Libya during last year's uprising against Muammar Gaddafi.
Since it began with demonstrations against President Bashar Al-Assad's regime in March 2011, the Syrian conflict has escalated into a full-scale civil war that has claimed up to 20,000 lives, according to estimates by various Syrian opposition groups. (IANS)