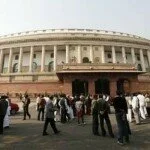 Finally a long awaited time to end amid BJP disrupted deadlock 'shut down parliament functioning' has come today as the Lok Sabha is set to discuss 'FDI in multi-brand retail' issue whether to allow it.
The debate on Foreign Direct Investment would be under rule 184, means the decision would be based on voting process.
UPA led Congress which has given its full efforts to bring reforms, trying to get outside supports on board, is much confident as to have maximum numbers of votes in favor of FDI decision which opposed by BJP led NDA.
The most crucial role of outside supports Mayawati, Bahujan Samaj Party (BSP) chief and Samajwadi Party chief Mulayam Singh Yadav, in support of UPA can play major role in Rajya Sabha where UPA needs voting of both SP and BSP.
But UPA have to pay something for as it has been said that Mayawati could help the Congress if it will take Quota Bill up first in Rajya Sabha, also listed in agenda, before the vote on the retail reform is held.
Among the Opposition, Left parties, AIADMK, Biju Janata Dal (BJD), Asom Gana Parishad (AGP) are much strongly opposed the decision and have confident that their MPs will come with full numbers votes. On behalf of BJP,  Leader of Opposition in Lok Sabha, Sushma Swaraj, is likely to initiate the debate on the issue, in Rajya Sabha Arun Jaitley will lead the party.
Meanwhile, toughest time has to come for both UPA and Opposition on to make their own status on edge of Both Houses. The Prime Minister tried to urge the AIADMK to cooperate to the policy in national interest, while BJP's Parliamentary Party is going to discuss its upcoming plans to be adopted at its meeting today before the session begins.