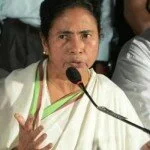 The top news of the morning reveals that the West Bengal Chief Minister and Trinamool Congress chief Mamata Banjerjee has announced in a press conference last night that her party will withdraw its support from the United Progressive Alliance [UPA] Govt at the Centre.
However, Mamata Banerjee also said that she may reconsider on it if the central govt would get ready to hold talks in some recent refoms.
Talking to media, Mamata Banerjee said, "Our party [Ministers] will go to [New Delhi] to submit their resignation on Friday. Today is Tuesday. Let them [the Centre] say, yes, instead of six cylinders we want to give 24 cylinders at least.Diesel also, they can withdraw the hike and bring down the price by Rs. 3 to 4… Regarding FDI in retail they have to withdraw (sic)…"
Further, Mamata told media that all six TMC minister in the central government would submit their resignations to Prime Minister Manmohan Singh at 3pm, on Friday.
She said, "We are not staying in UPA-II. It is unfortunate for me to announce all this… We have decided to withdraw support to UPA-II."
Mamata Banerjee told media that the to withdraw support from UPA govt was taken after talks with meeting here of all MPs, some Ministers in the State and senior leaders of the party.
in addition, Mamata said, this decision disappointed her but she had given time to Congress party to reconsider the refoms.
Mamata said, "I waited… We felt that at least this government will take some decisions, but they did not take those decisions… We were not allowed to stay."
Further, she said that the recent calls by the UPA govt on FDI in retail and hike in diesel prices were a strategy of Congress to divert attention from the Coal scam.
She said, "Is it a fact that to suppress Coalgate they started this FDI-gate? Is it proper?"