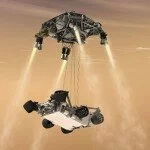 The World biggest development of the $2.5-billion NASA's Mars Curiosity rover is likely at target of Anonymous hackers who already reported to stop down a series of U S government websites, the New York security firm claims, as per reports said.
Major reason behind hacking US sites by Anonymous group is of alarming agitation against arrest of Wikileaks founder Julian Assange.
It has been said that hackers might target communicational signals of NASA which are in use to link with Curiosity rover that transferred Red Planet surface images. A requesting message for hacking signals has also been seen on an Internet Relay Chat (IRC), one of the Anonymous-related channel, source said, where hacktivism operators asked users for assisting to unauthorized access to car sized Curiosity.
According to source, a user identify as 'MarsCuriosity' posted on Web which reads, "Anyone in Madrid, Spain or Canbarra who can help isolate the huge control signal used for the Mars Odyssey / Curiosity system please? The cypher and hopping is a standard mode, just need base frequency and recordings/feed of the huge signal going out. (yes we can spoof it both directions!)."
May be this is a fake message, moreover Nasa $2.5 billions Curiosity rover which on the Red Planet surface sending a number of images that surely help to form a historical revolution, opening all the mystery of universe and also finding the possibility of habitual on Mars.