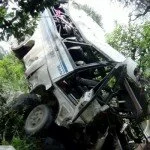 Another bus accident took place in Meghalaya today morning. Reports have said that around 27 people feared killed and 25 others were critically injured when a Tripura-bound bus fell into a deep gorge in Meghalaya's East Jaintia hills.
Further, it is said to media that the accident took place in the wee hours of Wednesday.
An official told media that bus accident took place sometime between 3-5 am in the morning at Tamseng village near Meghalaya-Aassam border.
Officials said, the bus was coming from Guwahati and going to Agartala, when it fell into a deep gorge.
District police Chief MK Dkhar said, "We have been able to retrieve 22 bodies even as six critically injured persons were shifted to Khliehriat community health centre."
He said, "There are possibilities of more deaths and the district police and fire service personnel are on the job to rescue the trapped persons in the bus."