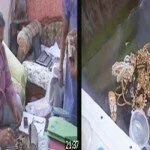 The breaking of the day is that the Madhya Pradesh Lokayukta Police on Saturday raided the Umesh Kumar Gandhi, state DIG Prisons.
The MP Lokayukta raids took place at the official residence of the DIG and the police has so far recovered Rs 25 crore worth assets, alongwith several lakhs of rupees in cash, 14 bank lockers, and a tin carrying Rs 2 crore worth fixed deposit receipts.
The raids also happened at his brother's residences.
Talking to media about the raids, Lokayukta inspector Naveen Avasthi said, "Gold and diamond jewellery were found stuffed inside a sofa in the official's drawing room."
Reports have said that Madhya Pradesh Lokayukta Police started raids operation at 6am continued till late evening. The police had sized documents relating to five houses, and 14 plots were seized.
The IPS officer Umesh Gandhi, whose monthly income is around Rs 50,000 had more than Rs 25 crore prporty.
Gandhi started his government job with Rs 425 per month salary. Lokayukta had many complaints against Gandhi and finally they decided to raid today.
Avasthi said, "Gandhi owns a shop in Katni, has Rs 40 lakhs worth life insurance policies, and owned Rs 2 crore worth fixed deposits."
Lokayukta raids Gandhi's brother Ajay's home in Subhash Nagar and recovered cash and gold jewellery.