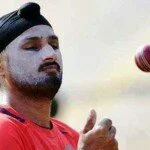 The Indian cricket team under-performed against England cricket team in the second test match played at Mumbai and MS Dhoni's captaincy is under fire. But, spinner Harbhajan Singh came in support of his captain and said that one should not judge him on the basis of just one bad performance.
Harbhajan Singh played in the second Test match against England at Wankhede Stadium and India lost the match by 10 wickets.
Talking to media, Harbhajan Singh said, "Winning and losing is a part of the game and players and captain like Dhoni, should not be criticised for just losing a single game"
Further he said, "We should not forget that Dhoni is the same captain who won us the first World Cup after 1983 triumph. He is one of the best rated captains in the country. By losing just a single match, one should not raise questions at his ability."
Harbhajan, 31-years-old, showed full faith in his team and said that Team India will bounce back in the third Test match played at the Eden Gardens in Kolkata starting from December 5.
He said, "People should not forget that we have beaten England in their home on many occasions. They should not criticise players and captain like this. We will perform better at Kolkata and will win there."
Teammate Suresh Raina said, "Sachin has priceless contribution, not only to Indian cricket, but to the world cricket. If he fails in one or two matches we should not criticise him."
Raina said, "My wish is that he should keep playing for the country. His presence gives an edge to the team. Kolkata has always remained one of Sachin's favourite venues and I am hopeful that he will silence his critics with a brilliant knock there."