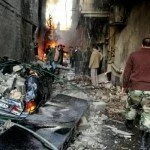 A fresh twin car bomb blasted on Wednesday in heart of Syria's district rock President Bashar al Assad's regime, killing at least 38 people and more than 5 dozens injured.
As per media information, two blasts have ripped in early morning at about the same time in a parking area located between two commercial buildings in the eastern Jaramana, most loyal to Assad, covering Syria's Druze and Christian's sect.
A huge damage have been reported including building destruction and blood shattered because of fresh voilence targeted to struck off Assad's regime, a part of the 20-month uprising hit by Sunni Muslims.
This fresh attack came after as Syria's new opposition group the Syrian National Coalition, firstly met in Cairo for meeting to discuss a transitional government formation against Assad. The Gulf Arab countries, France and Britain have already permitted their support to new Syria's coalition.
"The objective is to name the prime minister for a transitional government, or at least have a list of candidates," Suhair al-Atassi, new coalition's two vice-presidents said, as per source.
Still, no one has come in front for claim of responsibility for today's bloodshed by twin explosions.