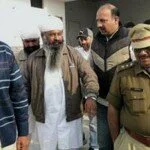 Sukhdev Singh Namdhari has been remain in police custody for next five days following his alleged involvement in the shootout of liquor baron Ponty Chadha and his brother Hardeep at the Chhattarpur farmhouse .
As per police reports, Sacked Uttarakhand Minorities Commission Chairman,Namdhari was the an eyewitness and main conspirator in Chadha murder case who had fired at Hardeep Chadha on the day of shootout.
Meanwhile, Police told court to sent Namdhari alleged with attempt to murder charges into further police custody for investigation for five days' in the Ponty Chadha shootout at farmhouse number 42, in south Delhi's Chhattarpur Nov 17.
In the Ponty Chadha shootout case, Delhi Police has arrested seven people, including Namdhari ,who has more than three dozen cases include murder, attempt to murder, dacoity and several others, had gone missing as an FIR registered against him once again.
On Friday, Delhi Police arrested him from his Bijapur residence in Uttarakhand and took into custody.
"I filed the FIR in connection with the shootout incident and have been always ready to cooperate with the police in its investigations," Namdhari refuted reports, as per source said.