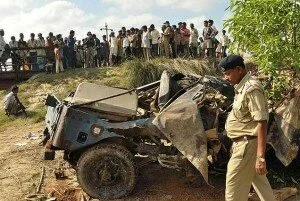 With a landmine blast, this time suspected Naxalites attacked on CRPF jawans, killing 15 personnel dead and many injured near Pushtola in Gadchiroli district of eastern Maharashtra on Tuesday.
The blast was triggered while the troops belonging to the to the CRPF's 192 Battalion were moving from Pushtola to Gatta in a bus. It is said that they were dominating the area for some specific operational information when bus hit a landmine fitted by Naxalites, died them on-the-spot, CRPF officials source said.
However Gadchiroli district in Maharashtra borders Andhra Pradesh is one of the major Maoist isolated area. Thereby, any relief and rescue to reach the area immediately is more difficult.
According to report, a rescue CRPF's helicopter arrived to place along with a reinforcement team where blast took place and the injured were being send to Gadchiroli for further treatment.
As soon as news of blast heard by the Maharashtra state DGP, he headed to Gadchiroli. CRPF Chief K Vijay Kumar is on a tour of Maharashtra and was in Gadchiroli area after he started from Nagpur this morning, CRPF officials said they were going him, he was now on his way to the attack spot.
In Mumbai, this attack is the third major one struck by Naxals, in 2009, 17 people were died and they also attacked on four policemen in 2011.