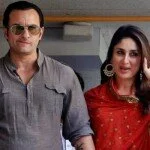 The Bollywood's biggest celebrations are finally over with the bang party at national capital on October 18. Actor Saif Ali Khan and actress Kareena Kapoor got registry marriage on October 16 in Mumbai, which followed parties and functions in Mumbai and New Delhi.
The reception party of Saif Kareena wedding witnessed huge number of Bollywood celebrities, cricketers and political leaders.
However, Saif's mother Sharmila Tagore now said that there will be no celebrations at Pataudi palace.
Talking to media, Sharmila Tagore said, "There was no reception in Mumbai, just the marriage. We danced, we had a lot of fun. There is no celebration in Pataudi, not now at least."
The entire media was expecting celebrations at the Pataudi palace and big celebration, but, Saif Ali Khan and Kareena Kapoor decided a private wedding.
Only family members and close friends were present at the Saif Kareena Wedding.