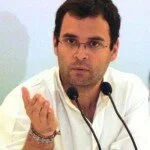 Fresh reports have said that Congress General Secretary Rahul Gandhi will visit Punjab on Friday and he will go to Jalandhar city. It is said that Rahul Gandhi will hold talks with Congress leaders there.
This will be Rahul Gandhi's 2nd visit to Punjab in October month. Earlier last week, Rahul Gandhi visited Chandigarh ata rally of the National Studetns Union of India [NSUI], where Rahul Gandhi said, "what is happening to human resources in Punjab. 7 out of 10 youth have the problem of drugs."
On this, the ruling party in Punjab Shiromani Akali Dal had charged the Congress party with attempting to bring bad name to Punjab.
Punjab Chief Minister's political advisor Mahesh Inder Singh Grewal said, "Instead of talking about problem of drugs among youths in Punjab, Rahul must have first pressed Congress government in Rajasthan to stop open availability of poppy husk and other drugs in that state."
While referring Rahul Gandhi's statement on drug addiction in Punjab, Grewal asserted, "The Congress leader has misquoted a survey."
Chief Minister's another political advisor Harcharan Singh Bains said, "What the Punjab government had said in an affidavit it had filed in the court here, had been completely misquoted by Rahul."
Meanwhile, Sukhbir Singh Badal had already said that the state government has no control over the flow of drug into Punjab from Pakistan and that the problem was a national one.