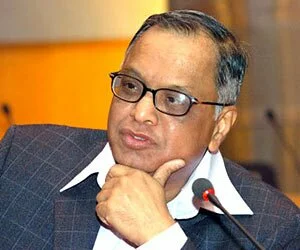 We are aware of the present situation of Indian currency in the international market. Indian rupee is weaker now as compared to US dollar.
But, after the regular fall in the value of rupee, IT major Infosys ' founder N R Narayana Murthy said it should not be seen with negativity.
While talking to media in an interview, Mr. Murthy said, "Value of rupee keeps fluctuating. This is normal. At some point of time value of Rupee was at 39 against a dollar …"
Infosys's co-founder was talking to media on sidelines of award function organized by Indore Management Association where he was awarded with 'Lifetime Outstanding Achievement Award'.
Further addressing to media, he said, international economic scenario is not in better position as developed economies are not doing their level best.
However, our country should not worry because of such immediate international feature as India has potential to grow at rate of 7-7.5 percent.
He said, "We need to work hard and take decision fast."
While answering to a question that whether the central government is facing difficulty in making decisions, Mr. Murthy said, "We have to look towards future and realize the seriousness of making quick decision. But this is not applicable on government alone. It applies on Infosys, local authorities of Indore and from Karnataka government to United Nations."