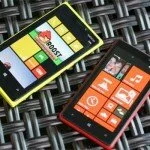 Introducing first Nokia World 2012 event yesterday, Nokia has showcased its newest and one of the most popular Lumia product range of Window Phone 8- Lumia 820 and Lumia 920- one of the best qualitative featured gadgets.
Its announcement has made just a day ahead of Apple's next generation iPhone 5, seeking a spare position as dominant in the widest Smartphone market segment, putting a challenge against Window Phone based tech makers.
Nokia launched its duo smartphones running on Window Phone OS, the latest launch ro introduce by Microsoft software company, supporting similar specification of microSD card support, Micro USB Port, VGA front camera and NFC.
While talking about power generation, Lumia 920 one of the stylish body featuring device supports a 4.5-inch PureMotion HD+ display with 1280×768 resolution and powered by the latest generation Dual-core 1.5GHz Snapdragon S4 CPU with1GB RAM, 32GB internal storage and an 8.7 megapixel sensor.
Purely based on Pure Technology, Lumia 920 is the best smartphone to experience viewing features as it has a big positive dedicated camera button for 8.7 megapixel Pure view rear camera and 1.2 megapixel front facing for voice chatting.
Running on Window Phone 8 platform, Lumia 820 comes with 1.5GHz Qualcomm S4 dual-core processor and avialble with variety of colore including yellow, red , purple. The device has a 4.3-inch Clearblack touch display with 800×480 resolutions, Carl Zeiss optics, and software such as Nokia Music and City Lens. The device has supported all basic Lumia 920 features with 8 megapixel rear dual LED camera with flash and 8GB of internal storage.
Moreover, there is no detail specification about pricing tag of Nokia Smartphones, but it has been cleared that Lumia 820 will access on Internet Explorer 8, and 920 to Explorer 10.