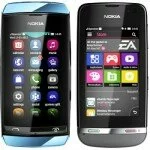 The big name in the Indian electronic market, Nokia, has recently rolled-out the full-touch dual-SIM phone Asha 305 in India. The new Nokia Asha 305 is available in the Indian market with price tag of Rs 4,668 at Nokia Stores.
Nokia first introduced Asha 305 in June this year.
The new Nokia Asha 305 has 3-inch display and 2 megapixal camera, it also has new Swipe user interface. The new Asha 305 has dual-SIM feature, it has microSD card slot and 1100 mAh battery.
Nokia India also offers 40 free EA titles to the 305 buyers and buyers can download it from company app store. Nokia Asha 305 uses world's most widely used mobile platform, called Series 40 platform.
Nokia Asha 305 Features:
3-inch resistive display with 240×320 pixels resolution
2-megapixel camera
Nokia Series 40 with Swipe UI
microSD support for up to 32GB
Music player app
1110 mAh battery with 528 hours of standby time