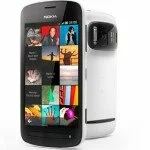 Finally, wait for the lat launch of Nokia 808 has come to end and Nokia newest Smartphone Pureview 808 ready to run on the Indian market platform.
The company has launched its much qualitative 808 Pureview a 41 megapixels, the world's best camera integrated Smartphone, at an event in Delhi that will available at price of Rs 33,899 on Nokia store.
However, Nokia's new smartphone which was firstly unveiled at the World Mobile Congress (WMC) currently underway in Barcelona, Spain, will be available 3 % less price at Nokia stores than it's the MRP of Rs 34,999 as indicated by the listing.
Run on the Symbian Belle Future Pack 1 OS, the world's best camera installed Smartphone is powered by a 1.3GHz processor, has 16GB internal storage expendable memory up to 32GB and 512MB RAM with a microSD card, accorfing to source.
The 808 PureView supports a 4-inches Amoled CBD display with Gorilla Glass protection having a high-resolution 41 megapixel sensor with Carl Zeiss optics and new pixel oversampling technology.
In addition, the phone features HDMI, 3G, Bluetooth 3.0, Wi-Fi b/g/n, DLNA, Stereo FM Radio with FM transmitter, aGPS, Dolby Headphone technology and Dolby Digital Plus for 5.1 channel surround sound playback.
According to the company, Nokia Rich Recording- technology has also a part of this Smartphone that enables audio recording at CD, along with full HD 1080p video recording and playback with 4X lossless zoom.
While Taking about Dolby surround sound, Nokia told reporters, Dolby enhances the phone's multimedia capabilities and makes the phone an ideal device to listen to music or watch movies on the go.
All in all, Nokia's newest best camera insisted Smartphone, 808 is likely to capture the market and be a big rival for other those are in lack of quality and features.