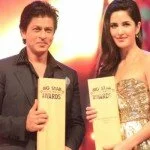 Bollywood buzz states that actor Shahrukh Khan has won the two awards at the Big Star Entertainment awards, and actress Priyanka Chopra and Abhishek Bachchan also named winners.
Meanwhile, Shahrukh wins the two awards, one for Entertainer Of The Year award for his performance in Yash Chopra's film 'Jab Tak Hai Jaan' and other is for Best Romantic On-Screen Couple gong with his co-star Katrina Kaif.
After receiving the award, Shahrukh said, "Jab Tak Hai Jaan will always be a special film for me. I will always be thankful to Yashji. I get really excited with awards. No matter how many I have got, they have the same affect on me, like they did when I was new in the industry. I almost become like a kid in the candy store."
Further, the actor said good things about his co-star Katrina Kaif.
Shahrukh said, "This was the first time I worked with her and see what happened! Katrina is a very hardworking girl and it was a pleasure working with her. And as far as romance is concerned, I am the best one here."
Actor Abhishek Bachchan won the award for his comedy performance in 'Bol Bachchan'.
Abhishek tweets, "Just won Best Actor- Comedy for Bol Bachchan at the Big Star entertainment awards!! Won because of the most awesome team that we had on the film. All the actors and technicians and ADs. I share this award with them."
In addition, Ranbir Kapoor and Priyanka Chopra won the awards for Best Actor Male and Best Actor Female for their performances in 'Barfi'.
Priyanka tweets, "Thank you to big to Big entertainment awards for the 1st 3 awards of the season to @basuanurag me and ronnie and sid for Barfi! Go team Barfi! (sic)"