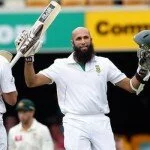 Today South Africa with a strong holding performed well in the ground against Australia in first inning, hitting score of 357-3 on the third day with Hashim Amla, one of the century makers who has kick off his third century against Australia.
The match started just a half hour early Sunday in a wake of to make some overs after the total ending of second day and the first day ended with eight overs early due to bad light.
The series started with Amla and Jacques Kallis, Amla at 90 and Kallis was on 84, with the total at 255-2. Amla was only who dismissed in an extended morning session while his team's batsmen continued to influence Gabba opening match.
Over a lose of one wicket, South Africa has covered its 357 in 38-over Sunday morning till lunch with Kallis who scored 137 unbeaten and  A.B. de Villiers with 32 not out. Kallis stand 165-run with Amla who was out with lbw by Peter Siddle for 104 hit on the front pad, just above the knee roll.
On other side, Australia Australia's bowlers under the high pressure, lack of high pace bowling than did in first day. Meanwhile, Home team which has not been defeated in 24 years is much stress to make again hit in its own ground.
The situation is under tense as South Africa has just 10 available batsmen as J.P. Duminy fractured his left Achilles in an accident after the first day , and not allow to play next match.
Kallis, fifth batsman against Australia who recorded his 44th Test century just minutes after Amla's departure, posted 13 boundaries and a six. At the lunch break, Kallis was on 137 and de Villiers on 32 unbroken.