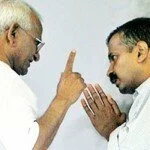 India Against Corruption (IAC) founder Anna Hazare on Saturday announced a new 15-member team which will carry forward pushing his "apolitical" anti-corruption battle across nation.
Not ready to give up the 'India Against Corruption' name which is still using with Arvind Kejriwal's group, Anna demanded to get back his party name. "The movement of India Against Corruption was launched by me to fight corruption," Hazare told reporters. He said that Arvind Kejriwal moved out and so they must get a new name.
Being described Ann as his guru, Kejriwal cleared that there was no intension to use IAC's name in his fight against corruption. Anna "is my guru. I talk to him everyday. If he asks me to stop using the IAC's name I won't use it," he added.
In the new "Apolitical" team of Anna, new faces are added in the 15 member committee including former director general of Police (Punjab) Shashikant, former IAS officer Avinash Dharmadhikari, Lt Col Brijendra Khokhar, Ran Singh Arya, activist Akshay Kumar and agriculture expert Vishambhar Chaudhary.
However, some of erstwhile Team Anna's members who did not join former aide Arvind Kejriwal's political outfit are also added in the list of members' team which will administrate the whole campaign to start against corruption from January 30 next year, on the death anniversary of Mahatma Gandhi.
Justice (retd.) Santosh Hegde, Kiran Bedi, Medha Patkar, Akhil Gogoi, Sunita Godara, Arvind Gaur, Shivendra Singh Chauhan and Rakesh Rafiq are listed under old members who are re elected in Anna's new team.
Moreover, today Anna will visit Sarvodaya Enclave in south Delhi where he will inaugurate his new office and take command for his next movement for a Jan Lokpal bill, against corruption, FDI and criminalisation of politics.