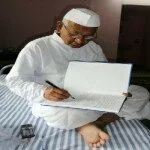 After splitting Team Anna, Social Activist, Anna Hazare is making strong come back with his new agitating campaign against rampant corruption in India from Patna's Gandhi Maidan.
Denied all the reports of exiting his movement, Hazare said that all the report of his movement has ended was wrong as he would start his nationwide campaign from 30 January 2013 in Bihar.
For that, a 13-member coordination panel formation plan has finalized today which formalise the future course of action of the movement, completely free from impact of split with India Against Corruption (IAC) chief Arvind Kejriwal.
Mr. Hazare has welcomed all those who want to join his movement, including police officers and Army as this time target is to change the whole system along with Jan Lokpal, rejecting government's Lokpal which would come in 2014.
Attacking Congress Party, Hazare said, "I doubt the government's intention… they know that if Jan Lokpal comes, 15 government ministers will be in jail," adding, "We need a revolution to change the system tomorrow."
Activist also announced his movement is also against foreign companies which focusing to wash out them from India, a complete opposition over the privatisation of water and power. "All foreign companies should be barred from entering the country…If we don't do this the future generation will be in trouble. The industrialists have money and the government has power so they shoot people to get what they want," Hazare told reporters.
While asking about former army chief General VK Singh's participation in movement, Mr Hazare cleared that Mr. Singh will not be member of Anna's team now. He was today presented in the meeting just as invitee, not member.